Allegheny Township Right-to-Know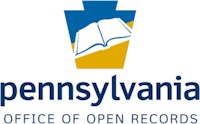 Right-to-Know/Open Records Guide: By January 1, 2009, all Townships must appoint an Open Records Officer by motion at a meeting and post the following information at the Township Building and on the Township's Web site. In accordance with Pennsylvania's Open Records Law (Act 3 of 2008), requests for access to public records pertaining to Allegheny Township may be filed with the Township's Open Records Officer. Accordingly, the Allegheny Township Resolution is attached below.
---

Allegheny Township Open Records Resolution.pdf
Allegheny Township Right-to-Know Officer

Silke Morrison

Allegheny Township Right-to-Know Request Form


Allegheny Township Sewer & Water Authority
Open Records Resolution

Allegheny Township Sewer & Water Authority Right-to-Know Officer

Lisa George

Allgheny Township Sewer & Water Authority
Right-to-Know Request Form


State Office of Open Records:
Terry Mutchler
Commonwealth of Pennsylvania
Office of Open Records
Commonwealth Keystone Building
400 North Street, 4th Floor
Harrisburg, PA 17120-0225
Phone: 717-346-9903
Fax: 717-425-5343
E-Mail: This email address is being protected from spambots. You need JavaScript enabled to view it.
Website: http://openrecords.state.pa.us/portal/server.pt?
District Attorney - Richard A. Consiglio
423 Allegheny Street, Suite 421
Hollidaysburg, PA 16648
Phone: 814-693-3010
Fax: 814-695-8210
E-Mail: This email address is being protected from spambots. You need JavaScript enabled to view it.